Between exploring the Annapolis Valley and Nova Scotia, you can join in and enjoy the variety of theme weekends that will make South Mountain Park, Family Camping & RV Resort, your #1 destination campground and RV park.


CAMP SITES

3 Way Serviced Site - Our full serviced sites are all angled pull through for easy access. They have 30 amp power, water and sewer hookups with a built in trap to prevent sewer gas from coming back up. All sites are 30 x 70 feet, making these sites some of the largest in the province



2 Way Serviced Site - They are within close proximity to the pool, park, and washrooms, with lots of green space nearby. They all have 30 amp service and water at the post.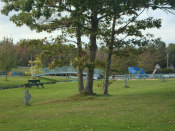 Serviced Tenting - This picturesque area is partially wooded with power and water on all of the sites. Each site comes with a picnic table and fire ring for your convenience. Our sites may not accommodate some super size tents, please inquire first.